THE I CARE FOUNDATION
I am pleased to share that I have made another significant donation to the I CARE Foundation as the organization prepares to move on new legislative initiatives that will help protect children. Like anything, financial resources are vital to the ability of making things happen. And I can't think of anything more worthwhile in my advocacy than protecting children from abduciton and trafficking.
Incenitve to do so? Reminders of why this was important?
Perhaps my fellow I CARE Foundation Board member Joel S. Walter, who I think happens to be one of the best family law attorneys in New York City said it best when he shared, "Your continual financial support and dedication to children through your generous financial support of the I CARE Foundation has had a great influence on so many lives. Truth is, our work continues to protect at-risk children. Thank you for your support and effort my old friend."
Well, Joel, if you're reading this, you know I am happy to play my role to help others.
Here is what some of the results of what we've been able to accomplish so far:
4. The I CARE Foundation has worked hard to continue to create new laws that will protect at-risk children.
5. The I CARE Foundation has created various campaigns to help raise awarenss of child abduction so children can be protected.
Best-selling Author Peter Thomas Senese Donates 100% of Earnings Generated From Barnes & Noble Nook Sales Of Chasing The Cyclone To Stop International Child Abduction
Peter Thomas Senese is pleased to announce that Barnes & Noble Nook readers now have the ability to purchase an e-book copy of his critically acclaimed novel Chasing The Cyclone, and in doing so, make a difference in the fight against international child abduction as 100% of the author's royalties from all Nook sales of Chasing The Cyclone will be donated to the I CARE Foundation.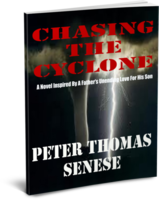 I am pleased to share that Chasing The Cyclone is now available in e-book for Barnes & Noble Nook users ... Peter Thomas Senese
Los Angeles (PRWEB) March 10, 2012
Best-selling geopolitical thriller author Peter Thomas Senese and Pacifica Publishing are pleased to announce the critically acclaimed international legal thriller Chasing The Cyclone is now available atBarnes & Noble in e-book for Nook readers. Previously, Chasing The Cyclone was made available exclusively on Amazon as Mr. Senese donated 100% of his royalties to the I CARE Foundation, an organization created to assist parents
and children targeted for abduction.
Peter Thomas Senese commented, "I am pleased to share that Chasing The Cyclone is now available at Barnes & Noble for Nook users for download. Barnes & Noble is a vital institution for readers and writers alike. As we prepare for Chasing The Cyclone's upcoming international hardcover release, along with some other important news related to this story and international child abduction, I am pleased to share that 100% of my author royalties earned from Chasing The Cyclone e-book sales at Barnes & Noble will be donated to the I CARE Foundation.
Critics have praised Peter Thomas Senese's Chasing The Cyclone.
The New York Journal of Books said of Chasing The Cyclone, "Chasing The Cyclone is a well-written thriller . . . Senese shares myriad emotions by writing in the first-person as he weaves through the action in this suspense-filled story . . . This novel might also be considered a treatise on international child abduction. Cyclone, while full of actual strategies and resources to assist parents in international abductions, is above all else a love story about a father and son ... From Los Angeles, to Canada, to New Zealand, and eventually, Macau, a special administrative region of China, Cyclone is rife with international intrigue and suspense. The protagonist, Paul Francesco, orchestrates a master plan that he hopes will reunite him with the love of his life - his son. Along the way he finds himself swamped in red tape and drenched in frustration. Filled with a plethora of powerful characters and puzzling predicaments and dead ends, the story moves quickly . . . Cyclone will leave you informed and satisfied . . . you will be reluctant to put down."
The Examiner stated, "Peter Thomas Senese is a gifted storyteller who takes readers on a heart pounding journey around the globe through the eyes of Paul Francesco, a father whose 7-year old son is abducted by his mother. The writing is raw and the emotions are real . . . The story is filled with twists and turns that will leave readers scratching their heads, seething in anger, and hugging their children a little tighter . . . I highly recommend Chasing the Cyclone as a must-read. You will not be able to put it down. It may very well change the way you look at life, child custody, and interactions with your child's other parent. I cannot endorse this book strongly enough."
Peter Thomas Senese's inspirational legal thriller is one that perhaps few other writers could have written with such intimacy, familiarity, and depth of understanding: it is a story of a father doing everything possible to find and reunite with his internationally abducted child that is Peter Thomas Senese's Chasing The Cyclone, which is heavily inspired by the writer's own experience chasing into the cyclones of international child abduction. Since his own experiences ended, and fulfilling a promise that he made, Mr. Senese has had a significant impact on creating various tools to assist targeted children and parents, including the creation of The I CARE Foundation, a not-for-profit organization dedicated to stopping child abduction that has successfully reunited numerous internationally abducted children with their parents, or has assisted in the prevention of an abduction. In fact, Peter Thomas Senese is donating 100% of his author royalties to the I CARE Foundation. One of the major successful undertakings of the I CARE Foundation's is the public campaign to build the Department of State's Hague Convention Attorney Network of pro bono lawyers willing to assist targeted children of abduction,